After writing many scores i chose 10 and prepared stencils to spray them: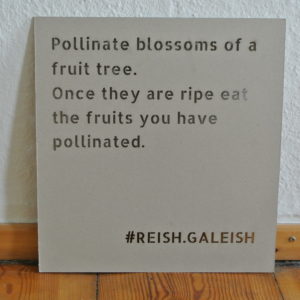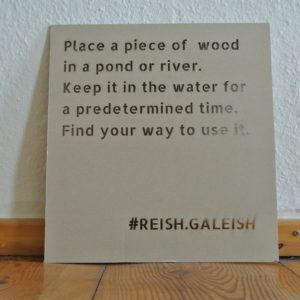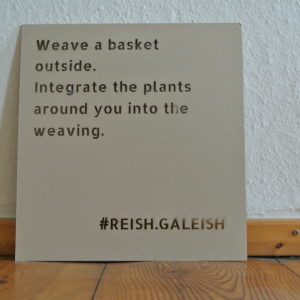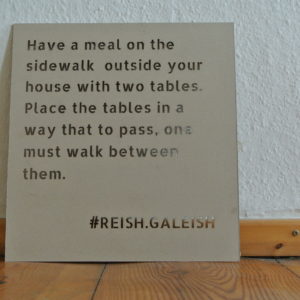 The first spraying tour took place on a Sunday morning. The empty streets gave me the space to experiment in the practises of graffiti that was new to me. I chose to spray only on objects left on the street that most likely are not interesting for anyone any more. To find objects to spray on was no problem in Berlin Kreuzberg. After a while the streets started filling up with parents and their little children. A group came near us when me and my companion where spraying a score.
" See, now they are placing the stencil and t-h-e-n…." a father tried to explain our actions to his child coming closer and closer.
"watch out," i said "I'm about to spray and the wind will blow the colour in your direction"
The group change its position to watch me spraying from the other side. When they left they encouraged us to continue.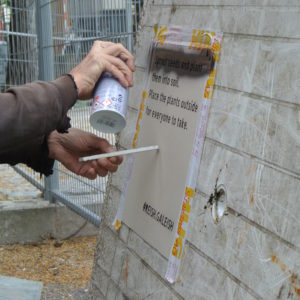 To have a parallel level of exposure for the scores i have created a Instagram account called REISH.GALEISH and posted the sprayed scores.
https://www.instagram.com/reish.galeish/
The responses on Instagram were immediate and fellt superficial. But a few days later i have found the folowing Instagram post:
https://www.instagram.com/miki.malheur/
A woman had seen the score on the street, took a photo, changed it digitally and posted it with some very kind words.
I have posted this score like this:
The Instegram experience left me ambivalent about this kind of platform. To explore it in my own methods, after tow weeks when most of the scores i have sprayed where gone, i have sprayed them again. This time i have posted a map of the locations i have sprayed them.