Current situation in the streets of Kibera: vegetables & fruits which are supposed to be sold on markets are displayed on bare ground.Not only during rain season this is a serious hygiene issue…
What can be done? Is there a way to solve it quick and easily, preferably with upcycled materials that leave the traders with no extra costs?
Idea:
WOVEN  "BACKPACK-HAMMOCK" SYSTEM
used materials:
buckets, cans, containers…whatever comes in hand and is suitable for carrying goods to the market..preferably stable enough to be used as a seat, when flipped over…
fabric scraps, firm plastic bags, any other material that can be torn in stripes and resist humidity…
procedure:
bucket or container which are used for transporting the goods, gets tucked inside a costumized woven backpack. Once at the market, the content of the bucket gets spilled on an also woven hammock which was stored on the backside of the backpack to guarantee more comfort while transporting and serves now as a display for the goods.
To be used as a seat (what people already do) ,empty bucket or container gets flipped around and placed back inside the woven backpack.Slipknots on the backpack allow the attachment and uplifting of hammock between the bucket and  the bin of the next marketneighbour who has the same backpack-hammock system…and so on and so on…unless you have a whole chain of backpack-hammock-systems on the markets…
Backpacks and hammocks could be constructed in workshops or even by the traders during markettimes while they are waiting for the costumers. Community activity is included, since another person is always needed to make it work. Supposably this system could also work for bbq events in the western life, where food is placed and easily spilled on blanckets…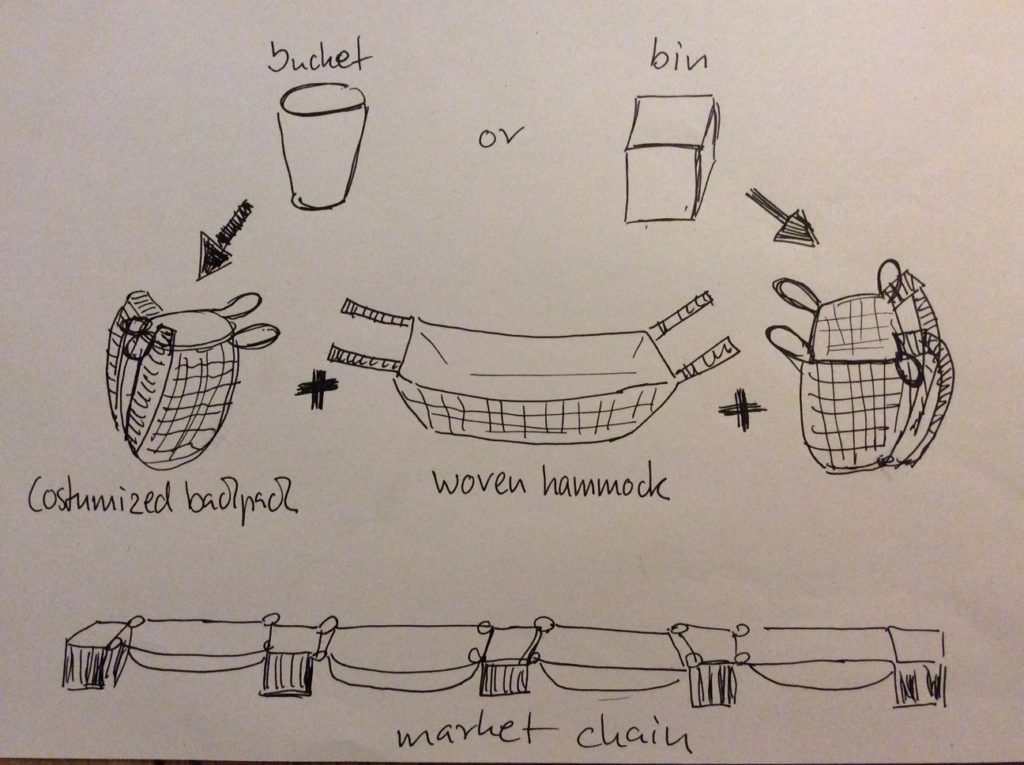 First weaving experiments: