HOW CAN WE MAKE LOCAL AND SEASONAL FOOD MORE ATTRACTIVE TO THE CITIZENS OF BERLIN THROUGH HAUS DER STATISTIK?
Eating local and seasonal food makes sense for multiple reasons: CO2 emissions for transport are kept at a minimum, fruit doesn't need to be harvested unripe or sprayed with chemicals to make them arrive "fresh" after long importation. Plants that are adapted to the local conditions don´t need additional fertilizers, greenhouses, artificial lights or gene manipulation to strive. They just grow in their natural habitat. We're also supporting the local economy and promoting a big variety of local plant species. When eating seasonal food we always get the fruits and vegetables that are harvested at the best moment and are therefore the tastiest and most nutrient rich.
So why don´t we all eat local and seasonal? In the summer months eating local seems easy with the abundance of fresh fruits and vegetables around. But let´s be honest, who wants to eat just cabbage, kale and beetroot through the winter months? Yep, me neither. Luckily there is a very simple solution that allows us to eat diverse and exciting food all year round: Preserving food. Preserving food can be done in many ways, e.g. drying, salt preserving, pickling, fermenting or cooking. Many foods are preserved that way: cheese, wine and beer, chocolate, bread, gherkins, jams, chutneys and compote, sirups, kimchi and sauerkraut, prunes, country ham…… Preserving isn´t only used to make food last longer, but also to enhance flavor or to improve texture.
In House of Preservation we want to learn and educate about the forgotten techniques of preservation by exploring and experimenting together.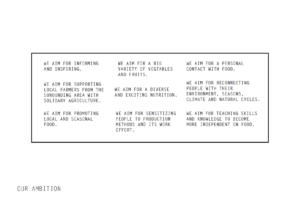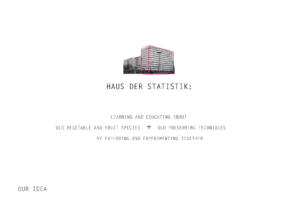 Luisa Wittkamp / Anne Senst / Lena Breiterborn / Ayla De Jong